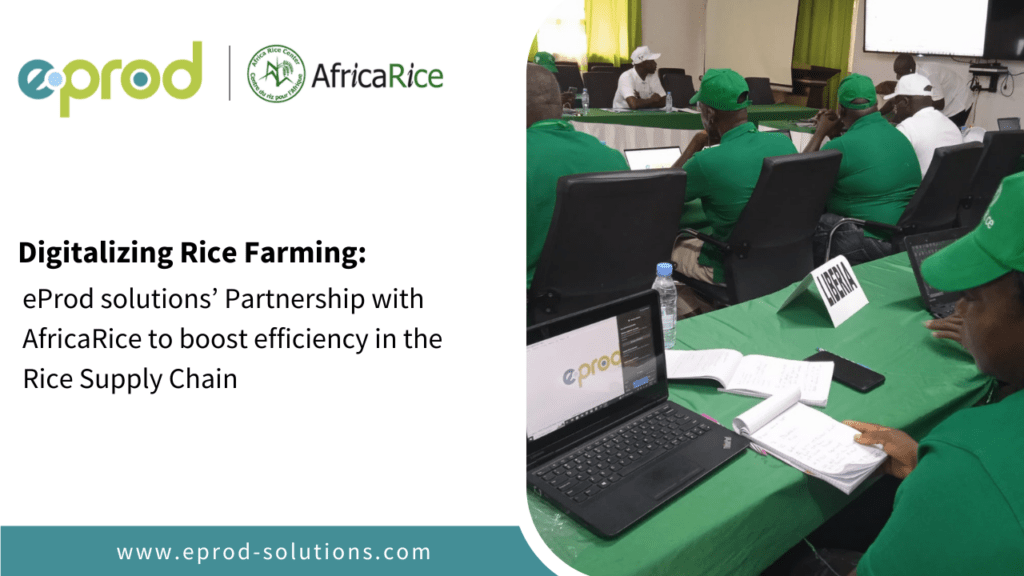 The Africa Rice Center (AfricaRice), one of our partners is a pan-African Center of rice research and development. AfricaRice is leading the way in rice research and development, increasing productivity and profitability of rice-based agribusinesses in Africa.
The Africa Rice Centre developed a smart application, RiceAdvice that provides detailed rice production advice. This advice is tailored to each farmer and is based on geodata, rice seed variety, fertilizer application and planting seasons. This information, though essential, wasn't accessible to many rice farmers who could benefit from its implementation in their farming process.
"The Rice sector has been suffering from poor productivity. The key challenges were poor quality seed, lack of use of the right fertilizer as well as GAP. Information was not tailored to specific needs and not always provided at the right time. From the beginning we realized the potential that an integration of the RiceAdvice app with eProd would have in increasing the production and productivity of the farmers that we wanted to support technically," said Ernst Otto Zippel, GIZ funded CORIS initiator and project coordinator at the time.
Through the integration we have enabled over 40 agribusinesses across Africa to provide their farmers with access to this data. Learn more about the RiceAdvice integration on our YouTube channel.
AfricaRice, by continually developing and providing improved seed varieties, cropping practices, processing technologies, policy advice and capacity development, refine this data useful to small farmers on their RiceAdvice app. With the RiceAdvice app integrated with the eProd platform, farmers receive specific nutrient advice via SMS, tailored to their specific fields, planting times and seed varieties planted.
This partnership assists to further improve the rice production by small holder farmers in SSA. Farmers have access to quality seeds, tailored fertilizer advice to ultimately increase production and productivity.
To find out more about how we can assist in integrating other applications feel free to reach out to info@eprod-solutions.com.