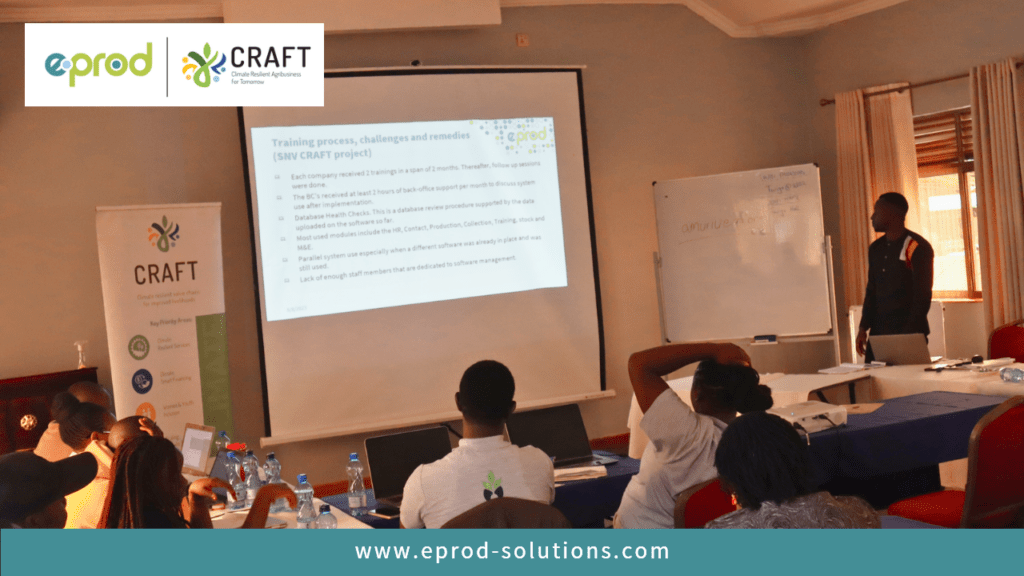 East Africa faces significant challenges due to climate change. Rising temperatures, unpredictable rainfall, and more frequent extreme weather events are affecting agriculture, natural resources, and food security. In response to these challenges, the SNV CRAFT project is making a positive impact by bringing together various stakeholders and service providers. eProd Solutions is a partner in this effort, contributing to the project's goals by digitalizing processes. 
SNV is a mission-driven global development partner working in more than 20 countries across Africa and Asia.
The project's aims on adopting climate-smart and sustainable production practices. These practices are essential for improving the efficiency and productivity of food crop production and supply systems. The CRAFT project follows a multi-faceted approach, which includes:
Climate Risk Analysis: Identifying vulnerable value chains and creating strategies to address climate change's impact on agriculture.
Business Case Development: Encouraging collaboration through the climate innovation and investment facility, involving private sectors, small businesses, and farmer cooperatives.
Financial Facilitation: Expanding financial access by partnering with financial institutions and increasing investment opportunities.
Policy Influence: Advocating for impactful climate plans and translating them into practical actions.
Practical Implementation: Offering practical guidance on climate-resilient practices, innovative technologies, models, and climate services.
As part of this partnership, eProd Solutions provides services to agribusinesses involved in the CRAFT project. These services include farmer registrations, field monitoring, certified seed sales, stock management, SMS communication, training sessions, connections to financial institutions and more. This collaboration aligns with SNV's commitment to promoting sustainable agriculture and resilient food systems."Together with partners like eProd Solutions, we are dedicated to promoting climate-smart production practices, with a keen focus on agriculture's efficiency and food security. We are making tangible progress toward a more sustainable and resilient future for East African agribusinesses and food systems." mentioned Bashir Kasekende, SNV Uganda Agri-Food Sector Lead/Country Project Manager.
Looking ahead, the challenges posed by climate change and digitalization are manageable. Guided by a shared vision, eProd Solutions and SNV CRAFT are working together to transform project partners. The combination of eProd Solutions Limited innovative digital platform with SNV's comprehensive CRAFT project promises a blend of technology, expertise, and long-lasting impact.