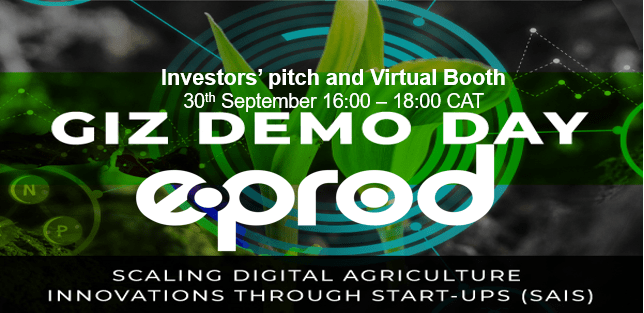 'Scaling Digital Agriculture Innovations through Startups' (SAIS) is a project implemented by the Deutsche Gesellschaft für Internationale Zusammenarbeit (GIZ) on behalf of the German Federal Ministry for Economic Cooperation and Development (BMZ). In an effort to support African AgriTech and FoodTech startups, BMZ, through the GIZ-SAIS program, has launched the Investment Readiness Program (IRP) to help rapidly scale and improve promising initiatives, while impacting farmers positively on the ground. eProd Solutions has participated as one of the eight promising African ICT start-ups and participated in the program. "The selected startups will be able to scale their innovations in new markets and help their users to improve their incomes," states Michel Bernhardt, Head of the SAIS project.
The SA Innovation Summit is the largest startup event in Africa and will be held virtually as a three-day event from 29th September until 2nd October. Click here for a link to the program. The Summit provides various platforms for developing and showcasing African innovation, as well as facilitating thought leadership. It will bring together top entrepreneurs, investors, corporates, policymakers, and thought leaders to support startups – such as eProd Solutions and inspire sustained economic growth across Africa.
During the event the GIZ SAIS startups will pitch to investors during the Demo Day Scaling Digital Agricultural Innovations on 30th September 14:00 – 16:00 CAT (12:00 – 14:00 GMT)
Registration for the Summit: click here
eProd Solutions will organize a Virtual Booth with a live demo on 30th September from 16:00 – 18:00 CAT (14:00 – 16:00 GMT). Subscribe for the event: click here.
For more information please contact webinar@eprod-solutions.com