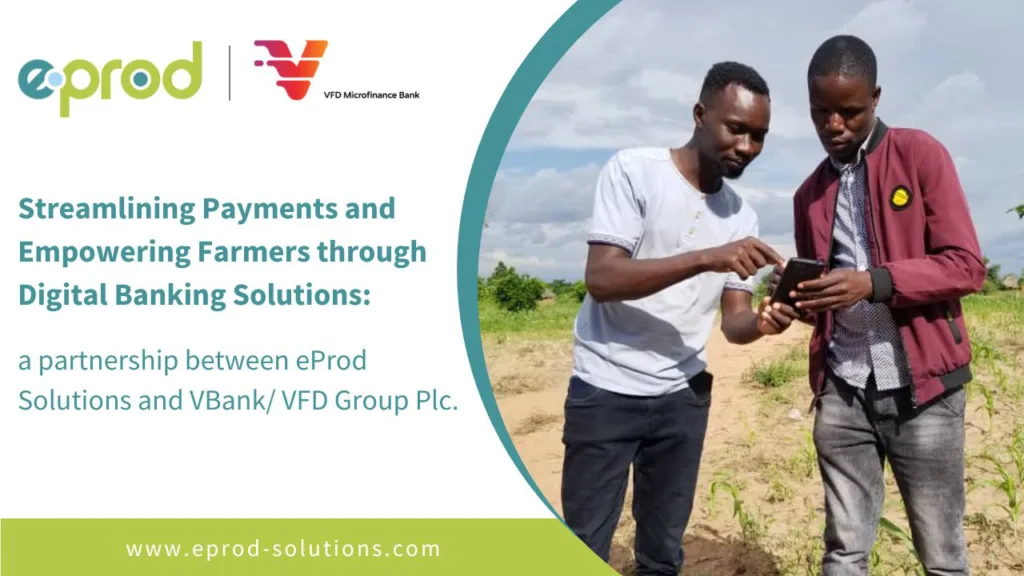 In the ever-evolving landscape of technology, seamless integration of financial solutions has become a game-changer for agribusinesses. In Nigeria for example, VFD Microfinance Bank, a subsidiary of VFD Group Plc, brings its unique digital banking services to Nigerians through its virtual banking platform, VBank.
What is the importance of digital banking for agribusinesses, especially interoperability with other software? It's simple. Digital banking services and integration with organizations like eProd Solutions enables Nigerian agribusinesses to pay their farmers directly through the eProd platform. In addition, these integrations provide data sharing opportunities that offer insight in credit information of farmers and enable credit scoring functionalities, and access to finance. This effectively reduces the risks related to loans and advances given to farmers, enables management of repayment, necessary adjustments while ensuring a seamless and efficient payment experience for the companies, the banks as well as the farmers.
With a commitment to providing seamless banking experiences tailored to today's market realities, VBank operates a diverse range of payment channels that aim to bring customers closer to achieving their goals. With a V account, users can enjoy a streamlined digital and mobile banking experience, with easy access to all accounts, swift and secure transfers, withdrawals, and bill payment. USSD, WhatsApp, Debit Card options offer solutions for everyone promoting inclusive banking functionalities.
This is even more amazing because one of the core focus areas for VBank is Agriculture. As an organization, VBank acknowledges the intrinsic significance of food security and sustainable agriculture in fostering a healthy and equitable Nigeria. Firmly committed to facilitating the accessibility of essential resources for farmers, they enable them to engage in sustainable food production practices by providing cash loans and assets financing.
At eProd Solutions recent webinar, some of its clients and partners were introduced to VBank where the opportunities of digital banking and the advantages for the sector was discussed.
For more information or a live demo, please contact info@eprod-solutions.com.