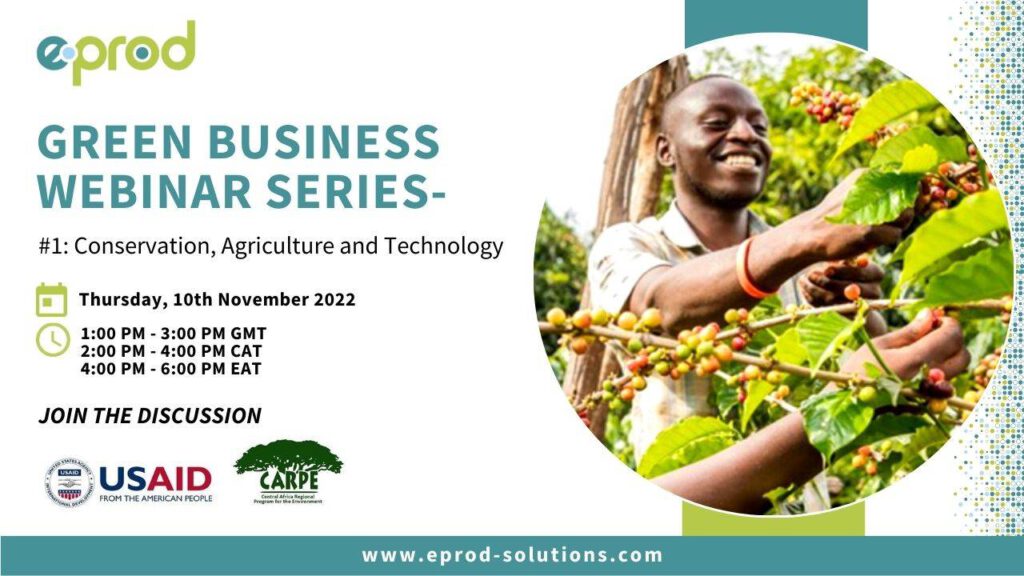 French
Rejoignez-nous pour le premier webinaire de la série Green Business sur la conservation, l'agriculture et la technologie, organisé par USAID le 10 novembre 2022 de 13h00 à 15h00 GMT/14h00 à 16h00 CAT/ 16h00 à 18h00 EAT.
Lors de ce webinaire, des intervenants de l'USAID, de Catholic Relief Services, de Buhler et d'Acorn, ainsi que des développeurs de projets de compensation carbone, partageront des exemples de la manière dont la technologie est utilisée en RDC et dans d'autres régions d'Afrique pour soutenir le développement agricole durable.
Le webinaire couvrira les domaines suivants :
Aperçu des cycles d'innovations technologiques dans l'agriculture et des nouvelles opportunités résultant des développements les plus récents.
Sauter des étapes dans des zones avec des infrastructures non traditionnelles (utiliser la technologie pour surmonter le manque de routes et de câbles).
Introduction d'une meilleure gouvernance et d'approches résistantes au climat grâce à la technologie (suivi de l'empreinte carbone).
Stratégies agroforestières à haute valeur ajoutée pour soutenir les stratégies agroforestières de conservation avec l'agro-entreprise.
Vous pouvez participer au webinaire en ligne ou en personne à Kinshasa, en suivant les instructions ci-dessous :
En ligne : Veuillez utiliser ce lien pour vous inscrire. Vous recevrez des instructions sur la façon de rejoindre le webinaire une fois que vous vous serez inscrit.
En personne : Pour participer en personne, veuillez-vous inscrire en utilisant ce lien. (N'oubliez pas que le nombre de places est limité et que les places seront attribuées aux 20 premières personnes inscrites).
N'hésitez pas à partager l'invitation avec vos collègues.
English
Join us for the first of the Green Business Webinar Series on Conservation, Agriculture, and Technology hosted by USAID on 10th November 2022 from 1:00 PM – 3:00 PM GMT/2:00 PM – 4:00 PM CAT/ 4:00 PM – 6:00 PM EAT.
In the webinar, speakers from USAID, Catholic Relief Services, Buhler, and Acorn, as well as project developers for carbon offsets, will share examples of how technology is being used in the DRC and other parts of Africa to support sustainable agricultural development.
The webinar will cover the following areas:
Overview of cycles of technological innovations in agriculture and new opportunities as a result of the most recent developments.
Leapfrogging in areas with non-traditional infrastructure (using tech to overcome lack of roads and wires).
Introducing improved governance and climate resilient approaches through technology (carbon footprint tracking).
High-value agroforestry strategies to support conservation agri-forestry strategies with agro-enterprise.
You can attend the webinar online or in person in Kinshasa, by following the instructions below:
Online: Please use this link to register. You will receive instructions on how to join the webinar once you have registered.
In-person: To attend in person, please register using this link. (Please keep in mind that space is limited, and places will be assigned to the first 20 people who register.)
Please feel free to share the invitation with your colleagues.