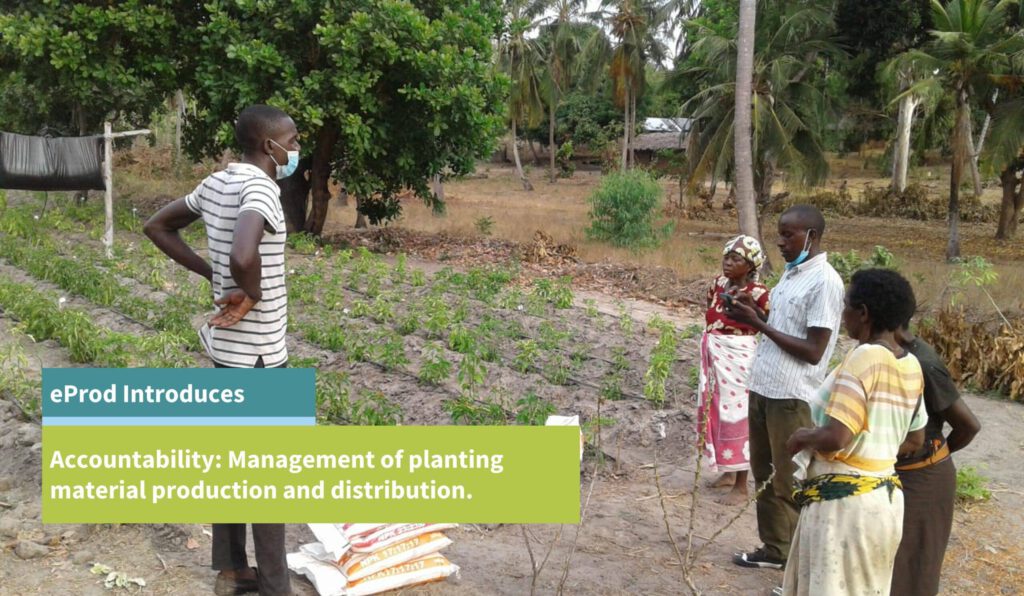 In this accountability series, eProd introduces a module for the management of planting material production and distribution in the field. Many companies have their own nurseries to be able to control the quality of seeds or seedlings used by their contracted farmers to ensure access to a certain variety of high-quality planting materials. However, the companies often lack the tools to manage the production and distribution of seeds or seedlings in the field cost-effectively. For example, in the case of seedling production and distribution in the field, there are several stages, and this can become complex to manage.
For example, the seedlings produced in the nursery are produced in batches that each have a unique code, individual seedling trays can each have a unique code for traceability as well. The seed used has unique batch numbers as well.
Seedling trays will be distributed across different field staff for distribution to farmers. Farmers that receive seedling trays will pay cash to the distributing extension officers – which can be accounted for via eProd, or the seedlings can be converted into loans that are repaid through the delivery of the produce. Cash and seedling tray balances can be always accounted for in the nurseries or during distribution.
The seedlings are registered with the traceability code in the fields where they are planted. The crop performance can now be monitored by the field staff and their supervisor. During collection the traceability to the field but also the crate or bag in which the product is added. The traceability is ensured throughout the following value addition steps, up to the final client.
Please reach out for a free demo: info@eprod-solutions.com